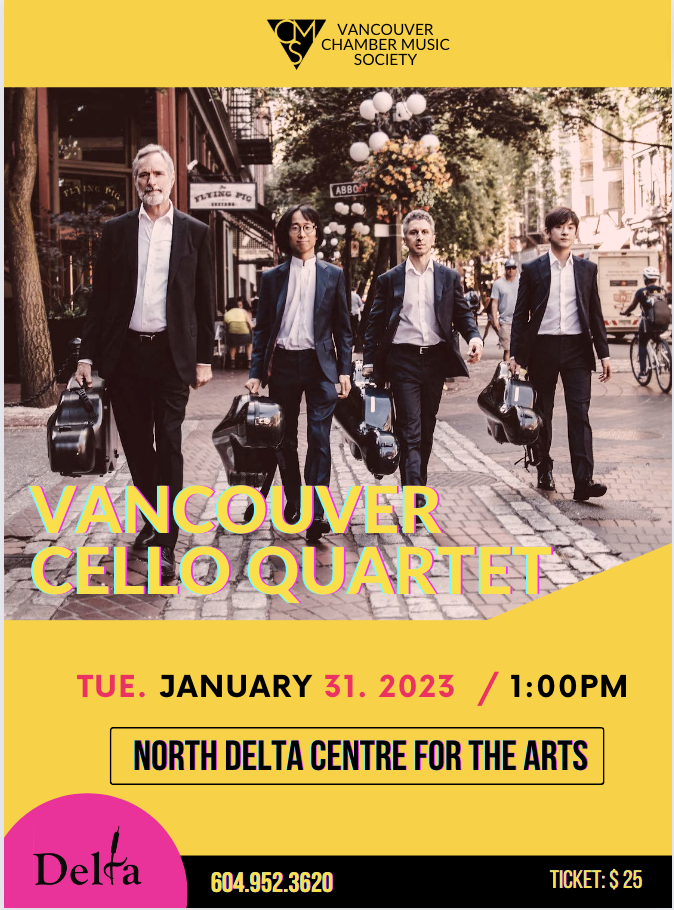 "Four of Vancouver's finest cellists combine their mellifluous sounds in the Vancouver Cello Quartet! With music ranging from classical favourites by #rossini , #tchaikovsky , and #albinoni to lush arrangements of the #beatles , they showcase the limitless possibilities of the instrument they love." (Quoted from recent 2022 Blueridge Festival's Facebook post)
City of Delta and Vancouver Chamber Music Society present Vancouver Cello Quartet. Formed in 2012, The Vancouver Cello Quartet is comprised of four dedicated professionals -Kevin Park, Lee Duckles, Cristian Markos and Luke Kim - who perform original works and arrangements for cellos.
This ensemble of classically trained players celebrates the unequaled sound of four cellos. Since their acclaimed debut, the Quartet has quickly won the hearts of music lovers through their performances of staples of the classical music repertoire as well as contemporary and popular works, all of which showcase the limitless possibilities of the instrument they love.
The mission of the Vancouver Cello Quartet is to create an eclectic mix of repertoire for every concert, shaping the program according to each venue's interests while maintaining our commitment to musical diversity.
Tickets $25
Doors open at 12:30pm. Come early and enjoy complimentary tea and coffee.
Reserved Seating; accessible seating available in the upper balcony. If you require accessible seating, please contact the venue at 604-952-3620.
Categories
Arts & Culture
Community Event
Concerts