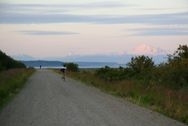 The City of Delta recognizes that now, more than ever before, our community needs to implement bold and urgent measures to address climate change.
This is why the City of Delta is refreshing our Community Energy and Emissions Plan (CEEP). The CEEP will be our pathway towards reducing our contributions to the greenhouse gas (GHG) emissions that cause climate change (climate change mitigation). A key focus of this CEEP is also to identify how climate action can help us achieve other community priorities like health and well-being, equity and inclusion and resilience to extreme weather events. The good news is we now know what we have to do and we are in a good place to get started.
The CEEP update will include:
public and stakeholder engagement;
completing an inventory; and
identifying the most appropriate and effective climate action decisions for the city and community
This phase of engagement focuses on Public Survey #1 and stakeholder workshops focused on understanding climate change, vision and current modeling.
How to get involved:
Learn more at www.letstalk.delta.ca/communityenergy