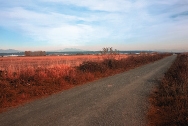 The City of Delta is committed to improving walking, cycling, and other active mobility options. We have created a Cycling Master Plan to develop a well-connected and complete cycling network that is safe, convenient, and comfortable for people of all ages and abilities.
Share your feedback on our draft Cycling Master Plan by completing this quick survey before July 4, 2022: www.letstalk.delta.ca/cyclingmasterplan.
This survey will allow residents to provide feedback on the recommendations made by the Cycling Master Plan.
The Cycling Master Plan can be viewed here: https://delta.civicweb.net/document/211025/