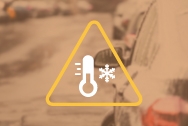 City crews have been working around the clock since the beginning of the week to clear the record-breaking snowstorm that occurred throughout the Lower Mainland.
By Tuesday morning, Delta received approximately 30-40 cm of snow and crews quickly mobilized to remove the excess snow. Staff had been scheduled to work around the clock in preparation for the snowfall event and immediately focused on clearing Priority 1 and 2 routes.
Once the main roads were completed, crews plowed the remaining snow on local neighbourhood roads and had hand crews and small equipment working on sidewalks and pathways through the day shift.
Forecast for Upcoming Weekend
Environment Canada released a Winter Storm Warning beginning Thursday evening, December 22. Crews are continuing to monitor any changes in the forecast to quickly respond.
City staff are scheduled to continue clearing residential zones in Ladner, North Delta, and Tsawwassen and are brining Priority 1 and 2 routes in preparation for the forecasted snow.
Hand crews and small equipment were working on sidewalks and pathways throughout the day shift.
Helpful Tips
Please do your part to be winter wise. If you are able to stay home and off the roads, please do so. If you must drive your vehicle remember these four tips:
Use snow tires

Check road and weather conditions

Give yourself extra time for the commute

Have a grab-and-go bag with you (includes water, food, charger, and blanket)
Who to Contact:
To report a snow and ice concern, please call 604-946-4141 (ext 2) or report the issue on our TalkDelta App.