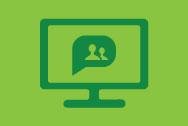 The next Regular Meeting of Delta City Council is happening virtually on February 22, 2021 at 4:00 pm. Visit delta.ca/watchlive to access the meeting livestream.
For information on what will be discussed at the meeting, view the Council Meeting agenda.
You may submit your written comments regarding agenda items no later than 10:00 am on Monday February 22, 2021 by email to Mayor-Council@delta.ca.
IMPORTANT INFORMATION REGARDING THIS MEETING:
All members of Council will participate in this meeting via electronic means (audio, visual or other communication facilities).
In response to the rising number of COVID-19 cases and in the interest of public safety, the Regular Council Meeting of Monday, February 22, 2021 will be held virtually. Members of the public may not attend the meeting in person but may listen and watch the Council proceedings via the City's live broadcast service available at delta.ca/watchlive.
Council meetings are conducted in accordance with Council Procedure Bylaw No. 5000, 2000 and Ministerial Order M192 – Local Government Meetings and Bylaw Process and are livestreamed to ensure the principles of openness, transparency, accessibility and accountability are met.
If you have a question regarding an item on this agenda that you would like raised during the Question & Answer Period held prior to the commencement of the meeting, please submit your question identifying the item no later than 12:00 noon on Monday, February 22, 2021 via email to Mayor-Council@delta.ca. Please include your name and home address. Questions must not be related to matters that were the subject of a concluded Public Hearing. Due to time constraints, there may be a limit to the number of questions addressed during the Question & Answer Period. The City Clerk will read out your question.