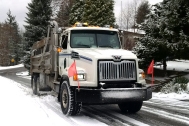 The City's snow and ice removal crews worked throughout the night clearing residential routes. City crews are busy pre-treating roads with salt brine before the snowfall and will be plowing priority routes once the snow begins.
Please do your part to be winter wise. Stay home and off the roads if you can. If you must get in a vehicle, have a grab-and-go bag with you, check road and weather conditions, use snow tires and give extra time for your commute. Visit the BC Government's Get Prepared website for tips.
Ladner and North Delta Extreme Weather Shelters Open
Delta's Ladner and North Delta extreme weather shelters are currently open in the evenings/overnight:
Ladner Extreme Weather Shelter Location: Ladner United Church, 4960 48 Avenue Phone: 604-599-8900; Operates between 9:00 pm and 7:00 am
North Delta Extreme Weather Shelter Location: New Hope Church, 11838 88 Avenue, Phone: 604-970-4150; Operates between 9:30pm and 7:00am.
Visit our Shelters page for more information. 
Delta's Snow and Ice Response
During snow and ice conditions, staff monitor the weather forecast and Delta's roads for hazardous conditions around the clock. Roads are cleared based on the following priorities:
First Priority Routes
Public transit routes, major collectors, select school access roadways and some roads in hilly areas. Pre-wetting, salting, sanding and snowplowing are carried out as long as poor conditions exist.
First Priority Routes are maintained until conditions are under control. Only then are resources redirected onto lower priority routes. As soon as conditions deteriorate on these routes, our resources are moved back to first priority routes.
Second Priority Routes
Secondary through roads in residential areas, select rural roads, and school routes.
Other Routes
Minor residential streets and cul-de-sacs. Work is carried out after First and Second priority routes have been cleared, on a site specific basis, usually at the request of the residents and normally after inspection by a supervisor.