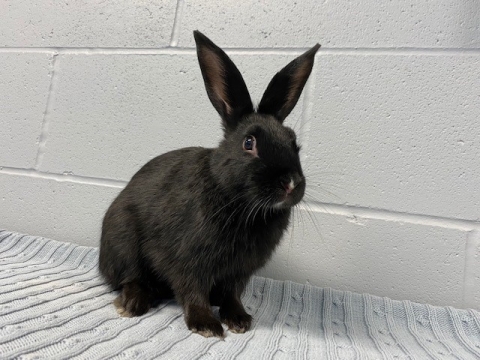 Colour
Black w/ white dot on nose
"ALVINNNNNNNNN!"
Much like the song, Alvin is the star of the show in his family. 
Alvin and his five brothers and sisters were born at the shelter to mom rabbit Estelle, a sweet stray that was likely abandoned in Ladner.
Despite all growing up together in a foster home, Alvin was quick to assert his bossy personality around his brothers and sisters and has been separated at the shelter until he can be neutered.
Alvin is confident and full of spunk and sass! He's getting pretty good at using the litter box, but he isn't afraid to chew up items (bunny safe or not) so a safe bunny proofed enclosure will be needed to keep him out of trouble.
We may look to rejoin Alvin with one of his siblings once everyone is fixed and settled in, otherwise Alvin could be adopted as a solo bunny.
If you're interested in adding a confident little rabbit to your household contact the shelter today to apply!