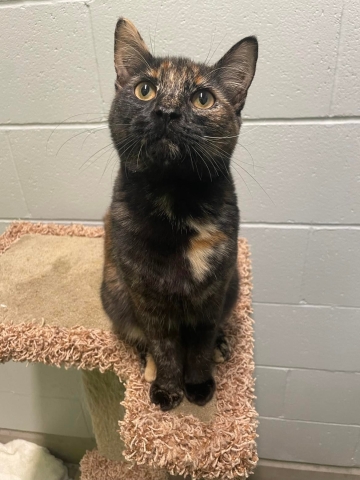 Meet Annie!
This little tortie was found at only two weeks old, as part of a litter of orphaned kittens after losing their momma. Sadly, her and her sister were the sole survivors of the family after having to be hand-raised by shelter staff.
Fast forward to today, and Annie is a wild child, true to "Tortie" fashion! She's playful and curious and doesn't want to be tamed! This little lady wants to explore as many places as she can and won't let anyone hold her back! Aside from her wild side, she's also quite the sweet and affectionate kitten.
Annie has lived with her sister in the past, and could potentially go to a home with another feline friend! If you're looking for the one, this beautiful gal might just be it! Contact the shelter for more information.
*Annie does suffer from persistent GI issues and therefore will need to be kept on a Gastro diet for kitties with sensitive tummies.*