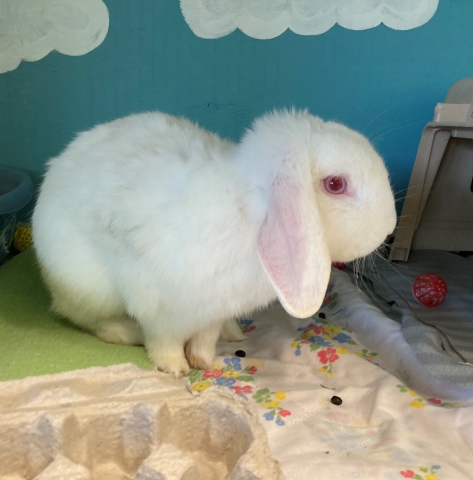 Arnold is a sweet little lop rabbit who was found in North Delta after likely being abandoned by his previous owner. We're especially sad that Arnold was left outside as being a red-eyed white bunny, Arnold does have poor vision.
Given his poor sight Arnold will need to be a strictly indoor rabbit. Arnold's ideal home would be a quiet home where he won't be stressed by sharing his space with dogs or cats. We aren't sure if Arnold would like to share his space with another rabbit but we would consider doing a meet and greet with a resident bunny if someone is interested in adding him to their herd.
Arnold is still learning the ins and outs of his litter box training but we suspect after he is neutered his habits will likely improve a lot!
Arnold is a curious bunny, who is interested in people and not afraid to perch up on his back legs to survey his environment (or groom his cute little face).
If you're interested in learning more about Arnold contact the shelter today!