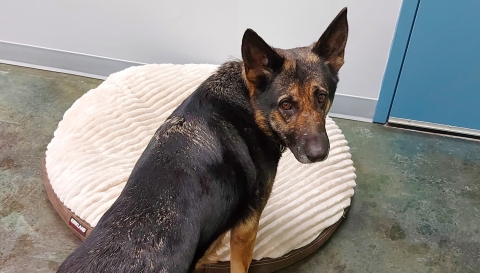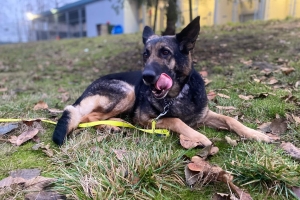 Meet Audree!
Audree is a sweet, shy, and deceptively playful lady who came into the shelter as a stray.   Curious but timid around people, she wants to trust and have pets and cuddles, but needs a gentle approach to feel safe.  When she trusts you, she lets you know by pushing her head into you to ask for gentle pets and head scratches.  From her initial timidness, you almost wouldn't know how bouncy and playful she can be. She loves to bound through the snow, roll in the leaves, and always invites you to join in the fun!
For her forever home Audree is looking for some humans who will build trust and a positive relationship with her, so she knows people aren't so scary.  She is dog-social with other dog-social dogs she has met at the shelter, so she could go to a home with a well-matched dog friend.  Due to her fear of sudden movements and noises, Audree is looking for a home with either adults only, or with adults and older, dog savvy teens.  Audree enjoys being outside, so she would enjoy a home with access to an outside area to lounge and play with her humans. 
Audree is healing up from her spay and dental, and ready to find her forever home! If that home could be yours, please fill out an application on our website (https://www.delta.ca/.../delta-community-animal.../how-adopt) or reach out by phone or email for more info.