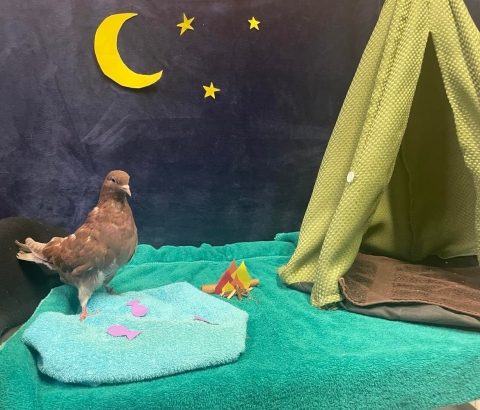 Introducing Bean!
This little cutie was found outside all by itself and has been raised at the shelter.
Bean can be a little defensive and sassy if you're reaching into their kennel space, but outside on our catio Bean will happily sit on your shoulder and seems to want to socialize.
Bean would likely do well with another pigeon and seems enamored by the adult pigeons in the room. At this time we aren't sure if Bean is male or female.
Pigeons are smart, easy going birds that quickly learn household routines. They do fine in homes with other pets and can live peacefully and unafraid with dogs and cats as long as they are kept safe. Pigeons are very emotional and do need a friend, whether another bird or a human with whom they can spend the day.
Pigeons could be housed in large aviaries outdoors, with protection from predators and the elements but they can also be housed indoors in a comfortable caged enclosure overnight with access to fly around the home during the day.
Well cared for pigeons can live up to 15 years!
If you're interested in adopting Bean, contact the shelter today for more information.