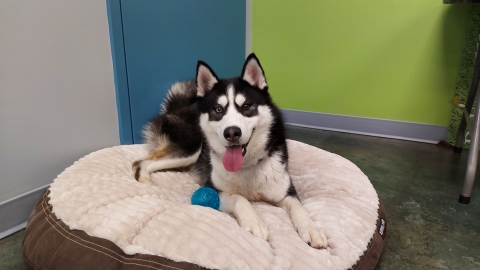 Meet Blitz!
This happy-go-lucky energetic boy came to the shelter as a stray and is now looking for his forever home! He has boundless husky energy, with a sweet and playful side that will just melt your heart. Those gorgeous brown and blue eyes are so cute, you will forgive him immediately for jumping all over you, your counter, and pulling all your stuff to his bed to chew on…
Blitz is intelligent and learns quickly, but he is starting from scratch and still learning manners. He will also need some brain exercise to keep him from destructive boredom behaviors, so Blitz would love to have some humans who would enjoy doing some dog-sports with him. Blitz is dog social so he could go to a home with a well-matched dog friend. He comes on a bit strong and has a lot of energy, so could be a bit much for some dogs. Due to his lack of manners, he is looking for a home with older children.
Blitz came in with some scuffed up paws and has been neutered. He is healing up well and is ready to find his new family. If you are interested in Blitz, you can reach out to the shelter for more information or fill out an application on our website!