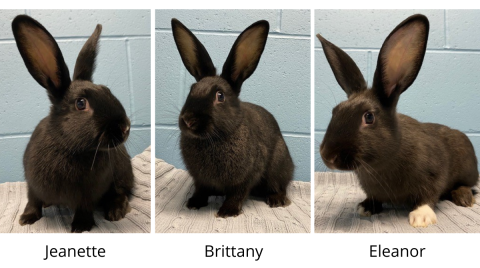 Introducing.. Brittany, Eleanor and Jeanette!
These three girls make up half of our 'Chipmunk' litter of baby bunnies that were born in shelter to mom rabbit Estelle, who was a sweet stray that had been abandoned.
All of the bunnies lived together in a foster home until they were old enough to come back, and now that they are, they are as ready as ever to find that special home to call their own! All three of the girls are quite fond of each other's company and can usually be found grooming each other, munching on hay together, or simply just laying in one big, cuddle puddle!
Like most bunnies, Brittany, Eleanor and Jeanette can be a little shy at first, but their curious side still gets the best of them and they like to hop around and investigate their surroundings! They love their pellets and veggies, and are slowly becoming better and better about understanding the litterbox.
If you're interested in adopting, one, two or maybe even three rabbits, contact the shelter for more information on these gals!