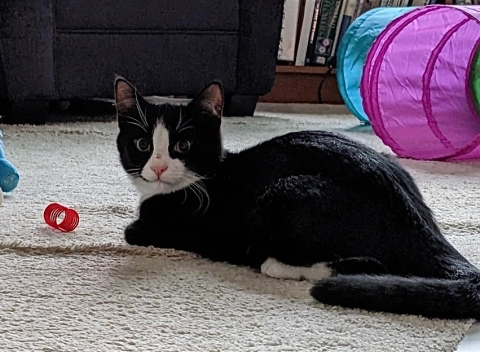 Meet Captain!
Captain was found at the Ladner Reach Marina with his momma and 3 siblings. Thankfully we were able to trap the family and bring them in to one of our foster homes for care and socialization as they were quite feral, and not used to human touch.
Captain is the bravest of the kittens! He's still a little skittish of sudden movements, but he recovers quickly and has been coming along great! He's quite the explorer and will go anywhere in the house, always reappearing just in time for treats! He's still not a fan of being picked up, but doing better daily! Captain is the one most likely to be found sleeping alone, although he and Cutty do often share a puffy bed. He enjoys watching tv with his fosters.
Captain is still waiting for his neuter and isn't quite ready to move into his forever home yet, but we are accepting applications now! We would LOVE for Captain to be adopted with another sibling!