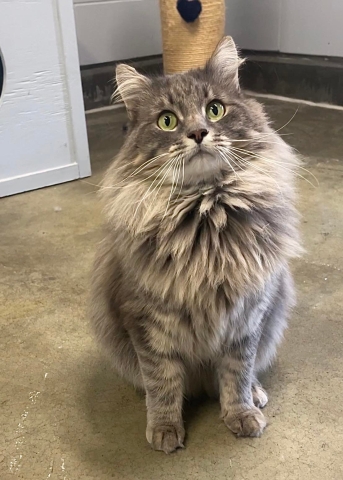 Meet Casper!
This beautiful boy was found as an intact stray. When he arrived he was quite nervous and unsure if he wanted to be friends, but he has quickly come around!
Although Casper may not have been the friendliest of ghosts at the start, he's turned into quite the affectionate boy! He can be a little timid, but the best way to his heart is through food - this smart cookie has even started to get the hang of eating from food puzzles!
Casper also really enjoys affection on his own terms - he'll give head butts and lean into you when he wants more. However, slow and steady wins the race, as he can be nervous of fast movements or loud noises! We don't want to spook our adorable ghost!
Casper is looking for a quieter home, without any young children and would like to be the only apple of your eye. No other pets! He has been diagnosed with IBD and does need to be kept on a special hypo die,t as well as medications for flare-ups, but we sure think he's worth it!
If this floofy boy sounds like the right match for you, contact the shelter today for more info!