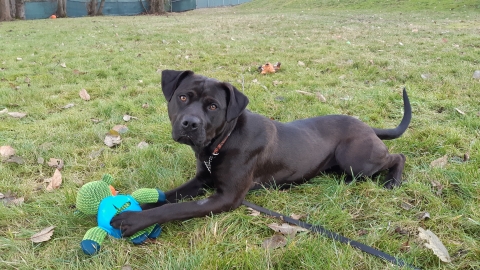 This lucky lady is somewhat of a miracle! She was found floating on a log clinging for her life in the Fraser River until someone came to her rescue. Now that she has been given a second chance, she's determined to live life to the fullest!
At only 1-2 years old Connie is quite the energetic and playful Lab-Bully breed mix! She loves to play with toys and run around, but most of all she loves to be around people! She's the type of girl that wants to be EVERYBODY'S best friend! Her excitement is hardly containable, so sometimes she can be a little inappropriate with her manners, like jumping and pulling on leash. We've been working on it, but she would benefit from some continued consistency and training in her forever home!
Connie has displayed some separation anxiety in shelter upon returning to her kennel, but we think this may be something that gets better in a home environment. After all, this young lady had quite the traumatic experience.
Due to Connie's high energy, 'bouncy' antics, and high prey drive, we think a home without young kids, cats or small critters would be best! So far she appears interested in dogs, so she could possibly do well with a well-matched canine friend.