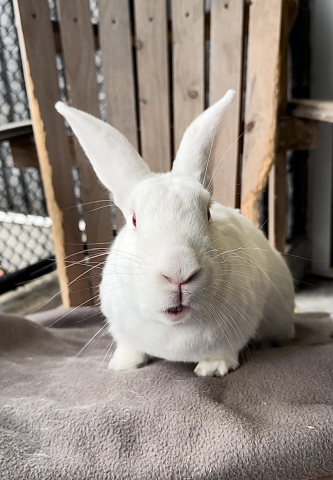 Meet Criss Angel! 
This fella came to us as a stray who was likely abandoned, and now is hoping to hop his way into a loving forever home. Don't be fooled by his 'magical name', this big ol' boy will not be disappearing into any hats, however, he is quite adventurous one! Criss Angel is a confident rabbit and loves to spend time back and forth between his kennel and his patio. His favorite past time is lounging on his wood deck chair and soaking in all the fresh air and fall sunshine!
Mind Freak? More like pellet freak! This big fella absolutely LOVES his food and will come running full speed ahead at the sound of the crinkling bag! Criss is quite the affectionate guy and when he's not exploring, he enjoys being pet by shelter staff and volunteers.
We aren't too sure if Criss would like to share his potential new digs with another rabbit or not, but with the right intro anything is possible!
If you are interested in learning more about this magical rabbit, contact the shelter today