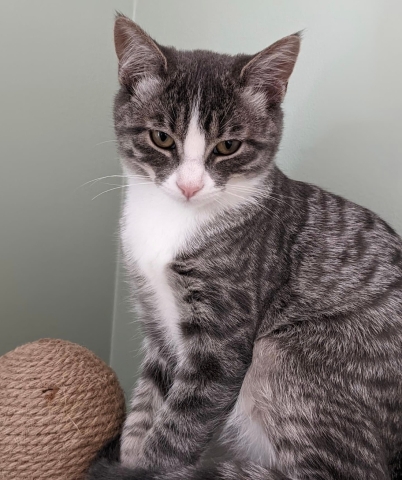 Colour
Grey tabby w/ white
Meet Cutty!
Cutty was found at the Ladner Reach Marina with her momma and 3 siblings. Thankfully we were able to trap the family and bring them in to one of our foster homes for care and socialization as they were quite feral, and not used to human touch.
Cutty is the most interesting of the kittens! He's curious and inquisitive and doesn't seem to be as fearful of humans as the others, but he's not overly interested in them either. If there's one thing he does love though, it's his momma! He is always 110% focused on her, and if he's not with her he can often be found snuggled up with Pearl. Cutty is the type that will approach on his own terms, and seek interaction when he so desires.
Cutty is still waiting for his neuter and isn't quite ready to move into his forever home yet, but we are accepting applications now! We would LOVE for Cutty to be adopted with another sibling!