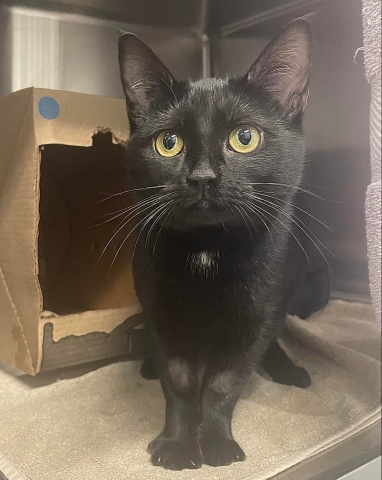 Meet Daphne!
This little, lady was born to a feral mom and had been raised in a garage with little socialization. She has since made her way to the shelter, and is now hoping to find a new home that will dedicate the time and effort to make her feel loved and comfortable!
Due to her up-bringing, Daphne is very shy and nervous of new people, but in the time she has been with us, she has made leaps and bounds! She's a very sweet and affectionate girl, once she deems you trustworthy, and can even be quite chatty!
Slow and steady wins the race with this gal, so she's hoping to land herself a quiet and understanding home.
Daphne lived with her brother in the garage, so she may do well with another feline friend. She'd like to be kept in the safety of the indoors and would love an adult-only home with a cat-savvy human she can bond with!
If you think you could give this sweet girl a safe, loving home and help her gain more confidence, contact the shelter today!