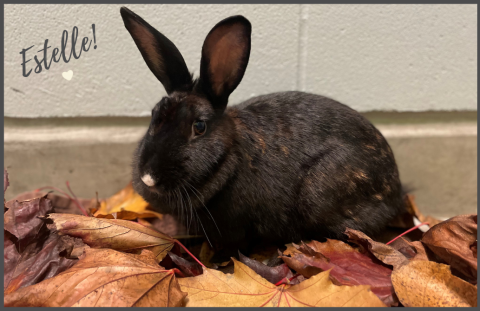 Introducing Estelle!
This sweet gal was found as a stray that had been hanging around near Captain's cove in Ladner. After spending less than one week with us, much to our surprise she gave birth to 6 beautiful baby bunnies!
After 1 month in foster, the babies have officially been weaned from mom, and now Estelle is ready to find a home of her own, where she can be the one being pampered! This momma can be a little shy of new faces at first, but she really bonds closely to her people. Once she knows you, she's very affectionate and loves to 'flop' right on beside you! She's a sweet lady that loves to be gently pet, but like most rabbits is not a fan of being picked up.   
In the foster home, Estelle lived with young children as well as cats and did very well! We aren't too sure how she would fair with other adult rabbits, but it could be a possibility.
Estelle has been a wonderful mother to her babies, and we think she deserves a wonderful home! She's as cute as a button with her little white nose and we think anyone would be lucky to have her!