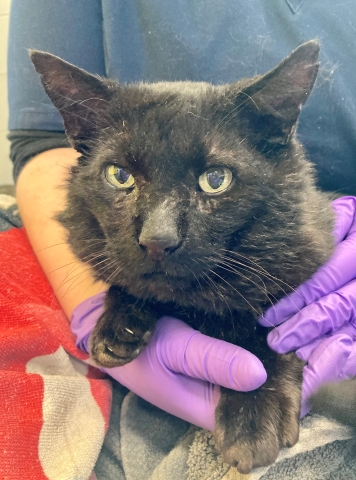 Meet Hudson!
This fellow came to us as part of our feral cat colony and was in pretty rough condition on arrival. Despite our attempts of gentle socialization and anxiety medications, Hudson has let us know that he still isn't quite ready to turn in his feral cat card to become a house cat just yet. Although, he has shown us some signs to let us know that he isn't truly wild – he comes out when he thinks he's alone and will even start playing with toys left in the room!
We're hoping to find Hudson a "barn type" home, with a safe space to roam where he can socialize on his on terms, when/if he feels ready! Given his age, we do hope that his new potential home would consider transitioning him to the luxury indoor cat life, when he decides to retire from the rough and tumble outdoor one he's known forever!
If you think you could give Hudson the type of home he needs or know someone who can, contact the shelter today!