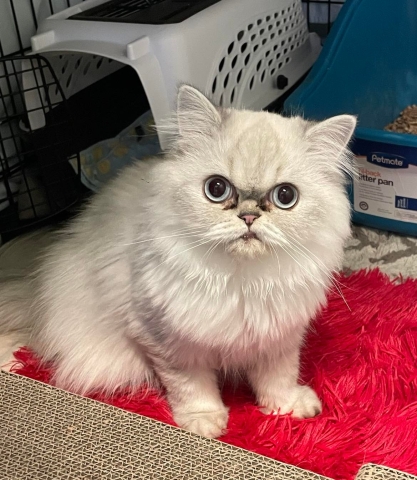 Meet Isabelle!
This pretty, persian lady came into us as a very fearful stray. It took us quite some time to allow her to trust us, but over the couple of months in our care she has really started to come out of her shell!
Although she can be a little timid at first of new people/surroundings, Isabelle is as sweet as pie once she knows you! She wants nothing more than to rub all over you and wants all the human affection she can get. She may not be the brightest bulb, but what she lacks there, she sure makes up for in majestic beauty and love! Her fluffy coat is to die for, but in order to maintain Isabelle's luscious locks, she'll need to be brushed daily! On the plus side, she absolutely ADORES it, and you'll be besties in no time.
*Isabelle was diagnosed with asthma, so she will need to be monitored for coughing, and will need to be on an inhaler twice daily, potentially for her whole life. But we promise it's not as scary as it sounds as many cats actually have undiagnosed asthma!*
We hope to find this floofy little angel the most wonderful of homes! Could that be yours?