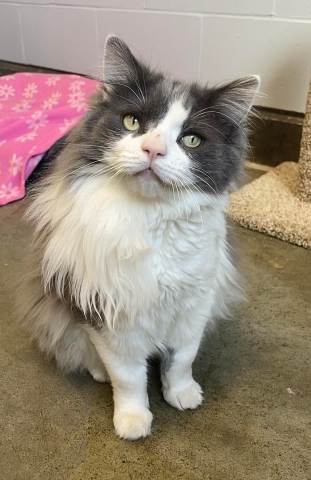 Meet Jacks!
Jacks is an extra special boy, looking for an extra special home! He's been through a lot already after he had an unfortunate run in with a coyote and ended up in critical condition at the shelter. Jacks needed major emergency medical intervention and ended up being surrendered for care.
Since coming to the shelter, he has nearly seen almost every specialist there is. After all was said and done, Jacks has made a miraculous recovery! However, through a neurologist visit, it was determined that Jacks has frontal lobe abnormalities in his brain, which leaves him a little 'slower' than most cats. He doesn't always make the best judgement calls (example 1 being the coyote run in), and is a bit wobbly on his feet, but aside from that he's the most special and lovable boy! Jacks loves attention so much, he will launch himself full force towards you every time you enter a room! He's such a character!
Jacks is looking for a cat-experienced, indoor only home, with adults or older children. Given his lack of critical thinking, we would like to try and find him a home to himself with no other pets!
If this sweet boy pulls at your heart strings just as much as ours, contact the shelter for more information on adoption!