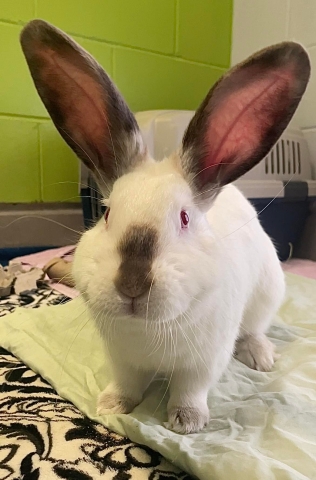 Meet Joshua!
This poor guy was found outside at an elementary school, likely abandoned by his previous owner. Now that he's been vaccinated and neutered, he's looking for a second chance in a loving home!
Joshua is quite the fun, interactive and social bun! He loves hopping around and exploring his enclosure, whilst tossing his toys. This guy also has quite the knack for interior design, as he loves to re-arrange his furniture often! Joshua is also really enjoys human affection. He'll hop over to seek forehead pets and gets excited with zoomies and binkies when you enter his room!
With being a red-eyed and white rabbit, it is possible that Josh may have some poor vision, but you wouldn't be able to tell by the way he easily maneuvers around! With his remarkable personality, we think he would be happy in any home that gave him love and attention!
If this big-eared fella sounds like the right kind of bun for you, contact the shelter today!