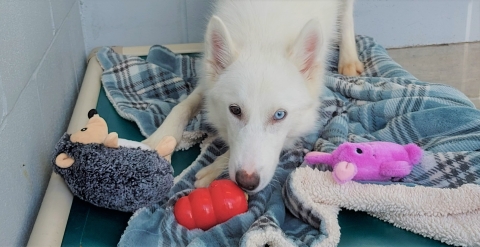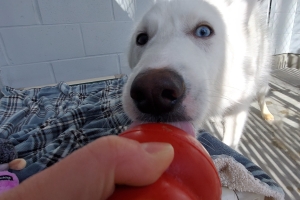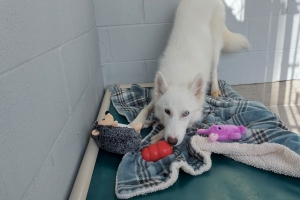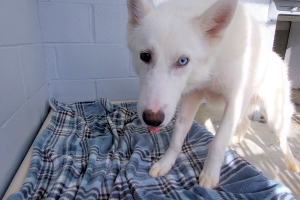 Meet Juneau!
Need a little more love and a lot of energy added to your life?  How about a husky!  Juneau is one of 3 huskies recently found stray in Delta, and he is looking for his forever home.  Juneau is sweet but shy.  We suspect he was under socialized with humans because he has been timid and nervous of handling and approaching people.  He has been making great strides though, and now has some favorite staff members that he loves to play with, get pets from, and even roll over for the odd belly rub!  As we have seen him start to come out of his shell, we've seen his playful side come out as well. He loves to play bow then have happy zoomies around his kennel. Juneau still has a lot of trust to go, and will need some kind and patient humans to help him gain confidence and trust.
Juneau is looking for an adult only home due to his under socialization with humans.  So far we believe he could go with a well matched dog friend – one who is confident may be helpful for his sociability.  Taking Juneau home will be like starting with a young puppy – he will need all the basic training and guidance.
If you are interested in Juneau, you can reach out to the shelter for more information or fill out an application on our website, delta.ca.