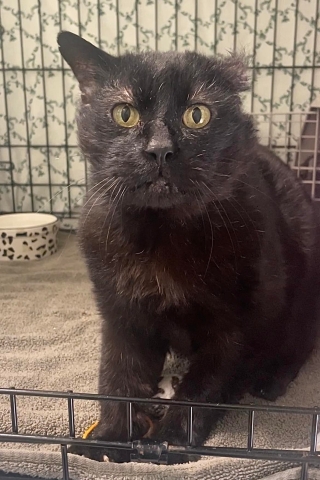 Meet Khabib!
As you can probably tell, this poor soul has been through so much. He came in emaciated, dehydrated, covered in fleas, had dental injuries and the most severe case of ear mites, ultimately causing permanent self- inflicted trauma to his ears.
At first, Khabib was extremely shut down and wouldn't come out of hiding, unless it was to eat or use the litterbox. However, after getting him all the medical care and treatments he needed, we started to see some glimpses of life in him again! Then almost immediately after starting him on an anti-anxiety medication; this fearful, shut down and timid boy, flipped a switch and has a new outlook on life!
Khabib is still a bit shy at first, but with some gentle coaxing he comes out to greet you and seek affection! He absolutely LOVES chin rubs, and you'll see the instant drool bubble form once you start! He also very much loves his food, so if you have some good snacks, you'll be best friends in no time.
This boy is still learning the ropes on how to be a cat, but we're so proud of his leaps and bounds of progress! He can sometimes give a little nip, but that's only because he doesn't want you to leave. A quiet, indoor-only, and adult-only home would be best to set our boy up for success! He is a senior, which does mean he comes with a few senior-kitty ailments, but not to fret because he takes his meds very easily in treats!
If you think you could show Khabib what love looks like, contact the shelter today for more info!