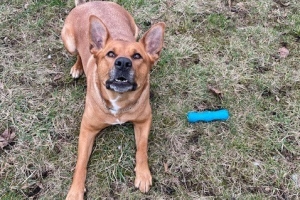 Meet Lola!
Lola is a fun/ spunky girl who's greatest pleasure in life would be pile of treats and a pile of toys! (or maybe just a new family to love her just the way she is…)  An 85lb bundle of enthusiasm, Lola loves to play fetch and splash around in the water!  She is a smart girl and is currently learning some agility!  She has a short attention span with the agility equipment though, and when it starts to bore her, she tries to grab it and run off.  It can be pretty cute and funny though, and is a glimpse into her weird and unique side.
Lola can be loud.  She demand barks, and although we are working on it she is likely to still be a pretty vocal girl.  She can also be intense with her affection, and obsesses over her favorite large ball toys.  For these reasons, she is looking for a dog experienced adult-only home.  She has lived with a dog in the past, so she may be able to find a home with a well-matched dog friend.
Lola is an energetic and expressive girl trying to find her way in the world.  Could you be the one she is looking for?  If you are interested in Lola, you can reach out to the shelter for more information or fill out an application on our website, delta.ca.