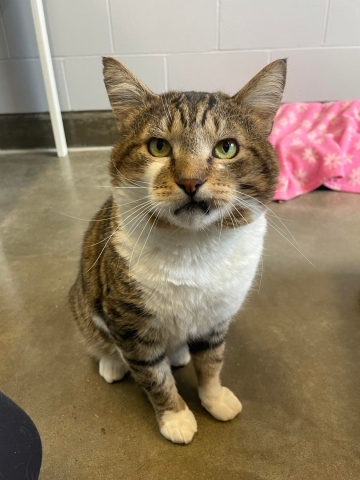 Colour
Brown Tabby w/ White
Meet Mac!
Mac, aka 'Big Mac' came to us as an intact stray who had been seen wandering around a neighborhood for quite some time. When he arrived he was very fearful and shut down, and we discovered he had some broken teeth/ arthritis in his neck and shoulders.
Since being in our care, Mac has received the medical attention he needed and he's finally feeling better than ever! He's currently on some pain control medication as well as an anti-anxiety med and seems to finally be able to truly relax and trust people again!
Despite everything this poor senior has been through, we're so happy to start to see a happier side of him! Now Mac actually enjoys affection, and will come up to seek forehead pets. He absolutely LOVES treats and enjoys curling up in a little ball and taking a snooze on his favorite scratch post.
Mac seems to be cat social, so may do well with a well-matched feline friend! He's spent far too long fending for himself in the outdoors, so would love an indoor only retirement home without any children or dogs!
This handsome hunk is ready to find himself a warm and loving home! Could that home be yours?