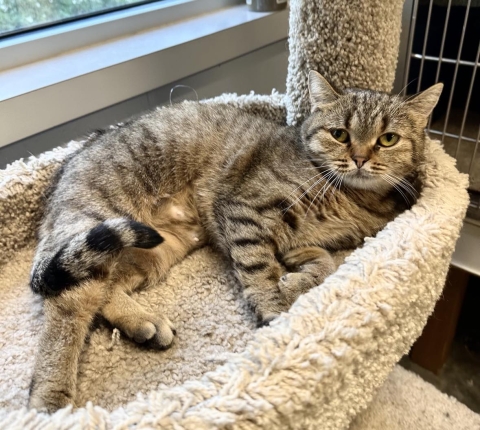 Introducing Maggie!
This ever so petite lil' lady came to us as a pregnant stray and less than 24 hours later she gave birth to 4 healthy kittens! Shortly after, she was transferred to a foster home where she could raise her babies in the comfort of a home.
Now that her kittens have all been adopted, it's Maggie's turn to shine! This beauty is looking for a quieter home without young children, as she is easily spooked and can be a little stand-offish at times. She'll be hot and loving one minute and cold and over your presence the next, but if you catch her on a good note she'll be rolling around purring up a storm!
Maggie is also quite the character! When she thinks no one is watching, she absolutely LOVES to play and will keep herself entertained for HOURS tossing her toys around and scaling her scratch posts like it's her day job.
If lil' Miss Maggie sounds like the right match for you, contact the shelter for more information!