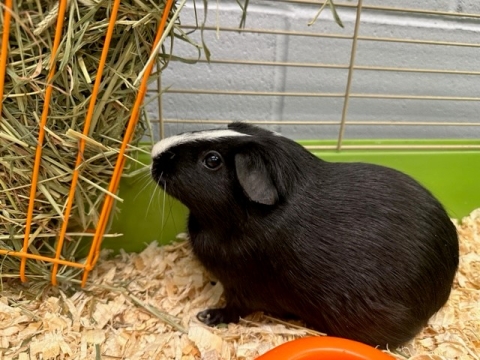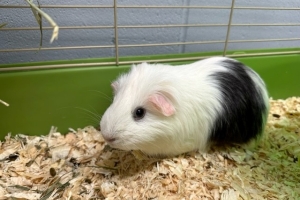 Introducing... "Twins" Mary Kate and Ashley.
Mary Kate and Ashley are two very sweet, young female guinea pigs that were abandoned with all of their worldly belongings at a local barn in Delta. Without owners to tell us about the ladies it has taken us a bit of time to get to know them, and for them to settle in and show their true colours.
Initially when they arrived they were underweight and Mary Kate would often bully Ashley in the small kennel they arrived in. Now in a bigger space both girls are much more relaxed, not fighting and so very friendly! The girls love their elevated kennel space at the shelter and come running at the sound of a treat bag or veggies. They are very curious and now that their health is improving we think they're ready to take the leap into a home.
The girls will need a good sized enclosure to allow them to grow without fighting, and they will need to have individual resources like water bowls and litter boxes to ensure no squabbles occur.
Guinea pigs can live 7-10 years and require just as much enrichment, cleaning and veterinary care as other pets, so make sure to do some research before falling in love with the little popcorning squeakers!
If you're looking for pair a sisters to fill the void in your "full house".... apply online today at www.delta.ca.