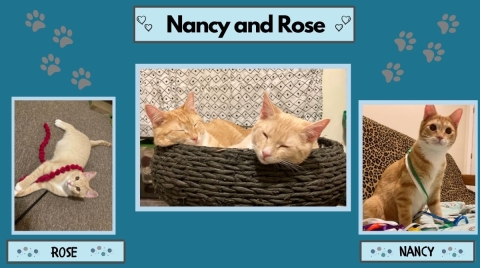 Meet Nancy and Rose
These ginger sisters came to the shelter from one of our local TNR projects in rough shape but after months of care in foster with our veterinary technician, these bonded sisters are ready to find a home of their own!
Rose the buff tabby is high energy and will chase down any feather wand she can find. Nancy loves to climb on your shoulders and ride around like a little parrot. Both of the girls love to roll into your body for pets and will happily crawl onto your lap if given the chance.
Despite being almost 8 months old these girls still act like curious kittens and will explore every nook and cranny looking for trouble.  Given their medical history the girls likely shouldn't live with other cats and are pretty scared of dogs and small children. To keep them healthy a cat experienced, indoor only home would be best. The girls love attention so a family who is home often would be a bonus.
If you're looking for two spunky little girls to join your family and rule the roost these two might be the match for you!