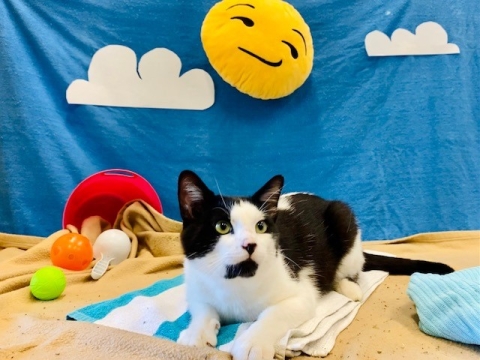 Introducing.. Penguin!
This handsome boy was trapped after he had been seen around the neighborhood for about a month. When he came to us he looked a little worse for wear, with some fight wounds, trap wounds and a dirty coat. Since then, he's been neutered and cared for and is now looking for his happily ever after!
Penguin is quite the character and sometimes a little busy body! He has OH so much to say, and will gladly chat your ear off if you let him! He loves affection, and loves to give meaningful head butts all while rolling around and making air biscuits with his paws! Lest we forget food, this boy also loves nothing more than some yummy snacks ;)
We aren't too sure about his past, but we think Penguin could potentially go home with a well matched feline companion. He's a lovely boy, and we think he would make a wonderful companion for anyone willing to give him a chance at love!
If Penguin seems like a match, contact the shelter today for more information!