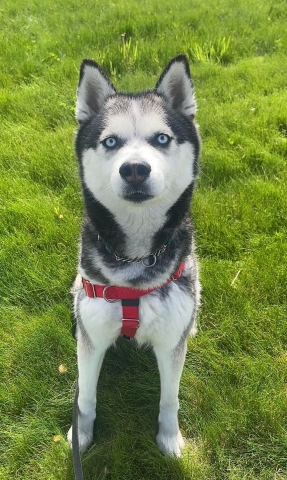 Meet Poppy!
This blue-eyed babe is the definition of fun. She loves to show off how fast she can run and adores being the center of attention. We wouldn't be surprised if we found out that was an excavator operator in a past life since she's perfected the art of digging huge holes in no time. While it's so much fun (for her), it also makes her the perfect candidate to be an escapee. Poppy will need someone who plans to keep a close eye on her rather than leaving her to create her own adventure.
With such a loving personality, you would never suspect how she ended up in our care. Poppy came to us after being dumped at a park along with her bed. When she arrived, she was extremely underweight - all of her ribs were visible despite having such a thick coat. Poppy is now a healthy weight, however, she has some resource guarding tendencies over high value items such as chews. This is a fairly "normal" dog behavior that can be worked on with positive reinforcement training. In the meantime, it's important to respect her warnings so she does not feel the need to escalate the situation.
Poppy would love a home where she gets to be the "only child". She can ignore dogs but is not dog social. Due to her resource guarding, she will not do well with children in the home. If Poppy sounds like she may be the right match for you, email dcas@delta.ca for more info.