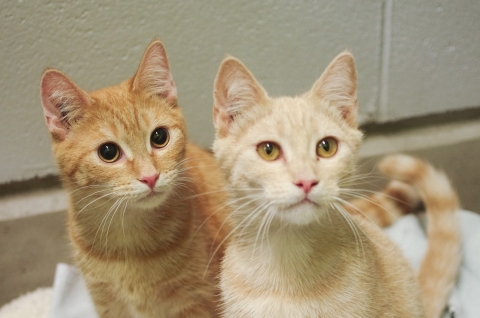 Meet Saffron & Laurel, two bonded sister kittens who are thick as thieves following each other around their kennel, happily playing with their toys when no one is watching. Saffron and Laurel love food and treats and we've been using extra snacks to gain their trust and love. A good feather wand will also land you in the good books with these girls!
Being born outside to a feral mom cat, Saffron and Laurel still need a bit of time to come around to the creature comforts of living with people. We suspect with gentle, cat-experienced owners, they'll socialize and bond to their family in no time at all.
Saffron was recently seen by the veterinary ophthalmologist and diagnosed with acute progressive retinal atrophy which will cause fully blind before she's 2 years old. While there is no treatment for this degenerative disease, it should not cause Saffron any pain or require any medication in the future.  It will help however that she has Laurel (who does not have the condition) to show her the way.
The girls are looking for a quiet, stable indoor only home where their environment can stay pretty much the same (no constant moving around or changing of furniture to avoid unnecessary stress for Saffron once she can't see).