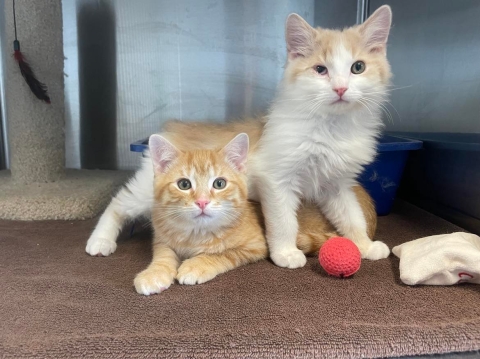 Colour
Orange Tabby and White w/ Buff
SEEKING FOSTER TO ADOPT!
Introducing... Scorpio and Taurus!
This adorable, brother duo, were originally found on a farm in pretty dire condition. They were severely emaciated, flea infested, dehydrated and on top of that were also suffering from a severe case of upper respiratory infection from the Calicivirus, as well as Mycoplasma. After a month in our care and the right meds, were so happy to report these two are well on the mend and have being doing OH SO well! They are as ready as ever to find a loving home!
Despite all that these two babies have been through in their short lives already, they are truly a couple of the sweetest and most loving kittens you'll ever meet! Even at their sickest, they would purr up a storm the minute you walked in and loved to be cuddled. Now that they are healthier, they are full of beans, and love to play with toys! However, the loving bond they share with each other has to be the best thing of all!
Scorpio and Taurus are looking for an indoor only home, without other cats, as they will always be carriers of upper respiratory virus and could have flare ups in the future. Although so much better than it was, Taurus's eye may never look completely normal, and he'll likely need to continue eye drops potentially the rest of his life to keep him comfortable!
If you have room in your home for the most ADORABLE pair of kittens you ever did see, contact the shelter today for more information on these love bugs!