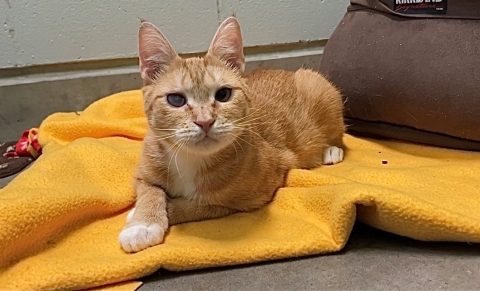 Colour
Orange Tabby with white
Introducing.. Selene!
This little lady originally came to us from one of our feral TNR colonies, but she decided she wasn't actually all that feral! She absolutely LOVES to play and sometimes enjoys attention when she's in the mood for it. But be warned because if you aren't giving her the attention she wants, or her treats fast enough she'll paw at your arm or leg in frustration!
Selene is quite the fun little character you can't help but love! She seems to think she may be more of a dog than a cat, with her favorite activity being playing tug with her favorite wand toy! She also loves curling up in her marshmallow bed after play time.
In case you didn't notice.. Selene's eyes are quite unusual and when she arrived she was in pretty rough condition. She was diagnosed with Calicivirus and Mycoplasma and is also a carrier of upper respiratory infections. Unfortunately, this means that flare ups requiring vet care may be a part of her future, but our vet teams are optimistic!
For this reason though, Selene will need to be an indoor only kitty, living in a stable and relatively stress-free environment to keep her healthy! Ideally, an adult only and cat- saavy home, with a soft spot for little ginger ladies!