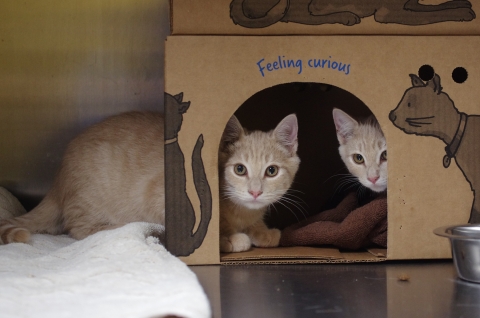 Meet Tangelo & Clementine, a bonded pair who came to us from one of our feral cat TNR projects in Delta, as part of our 'Citrus' kitten litter! Tangelo is the male and Clementine is the smaller female.
Since these two were born outside to a feral mom, they still need a bit of time to come around fully, but slowly and surely they have been making progress! Tangelo is the more confident of the two, and is learning that people aren't that scary after all. Clementine is still unsure, but with the help of some tasty temptations we think she can be won over! We suspect with some time and gentle, cat- experienced owners, they'll bond closely with their forever family. Just like any other pair of kitten, these two are full of beans and LOVE to play with all kinds of toys!
Tangelo and Clementine would be best suited going to a home without other cats. Due to their shy nature, they won't be interested in living with dogs and will need to be kept indoors.