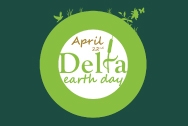 Fan Favourite voting is now open! Vote here.
Celebrate Earth Day with us! Delta residents and City of Delta staff are invited to participate in our 15th Annual Earth Day Photo Contest!
This year's theme is Environmental Stewardship. Environmental Stewardship refers to the responsible use and protection of the environment. We can all do our part to take care of the natural areas and wildlife we live alongside. Did you plant a pollinator garden for bees to thrive? Pick up trash along the shoreline so the birds do not mistake it for food? There are many ways in which we can be environmental stewards, and we want to see what environmental stewardship looks like to you!
Categories
Adult (18+ years)
Youth (13-17 years)
Child (5-12 years)
Classroom/Teacher (grades K-7)
Classroom/Teacher (grades 8-12)
City of Delta Staff
Who Can Participate?
Delta residents (5 years and older) and City of Delta staff are allowed to participate and enter the contest. Only one photograph can be submitted per person.
Any teacher with a K-12 class in Delta is eligible to enter. Submit one photo per class to the Classroom / Teacher (Grades K-7) or Classroom / Teacher (Grades 8-12) category.
Prizes
Each of the Adult, Youth, and Child categories will have 1st, 2nd, and 3rd place winners. 
Both of the Classroom / Teacher categories will have a 1st place winner. 
One Grand Prize winner will be chosen out of all eligible entries received in the Adult, Youth, and Child categories.
One Fan Favourite winner will be chosen by the public; voting will be open to Delta residents from April 1 -14.  
All winners will receive a prize!
How to Enter
If you do not already have an account, sign up at letstalk.delta.ca.
Complete the Photo Waiver Form and upload your unaltered photo (taken in Delta) at letstalk.delta.ca/earthdaycontest.
Optional: Add a title and short description of how your photo shows us what environmental stewardship means to you.
Entry Deadline
Friday, March 31, 2023