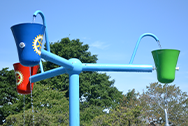 With the recent announcement of the BC Restart Plan, and in recognition of the reducing COVID-19 case numbers and increasing levels of vaccinations within our community, Delta is taking steps to ensure all outdoor City recreational amenities that are currently closed are reopened effective this weekend. This includes the water spray playgrounds at Diefenbaker Park, Memorial Park, Annieville Park and North Delta Social Heart Plaza.
We are also pleased to announce the reopening of the stairs at Fred Gingell Park in Tsawwassen.
Residents are reminded to continue to follow appropriate COVID-19 safety precautions when using park amenities.
Staff will be providing a report at the June 14 Council meeting on the subject of changes to other City services and programs as we carefully resume those functions affected by the response to the COVID-19 pandemic and in accordance with the four steps within the BC Restart Plan.