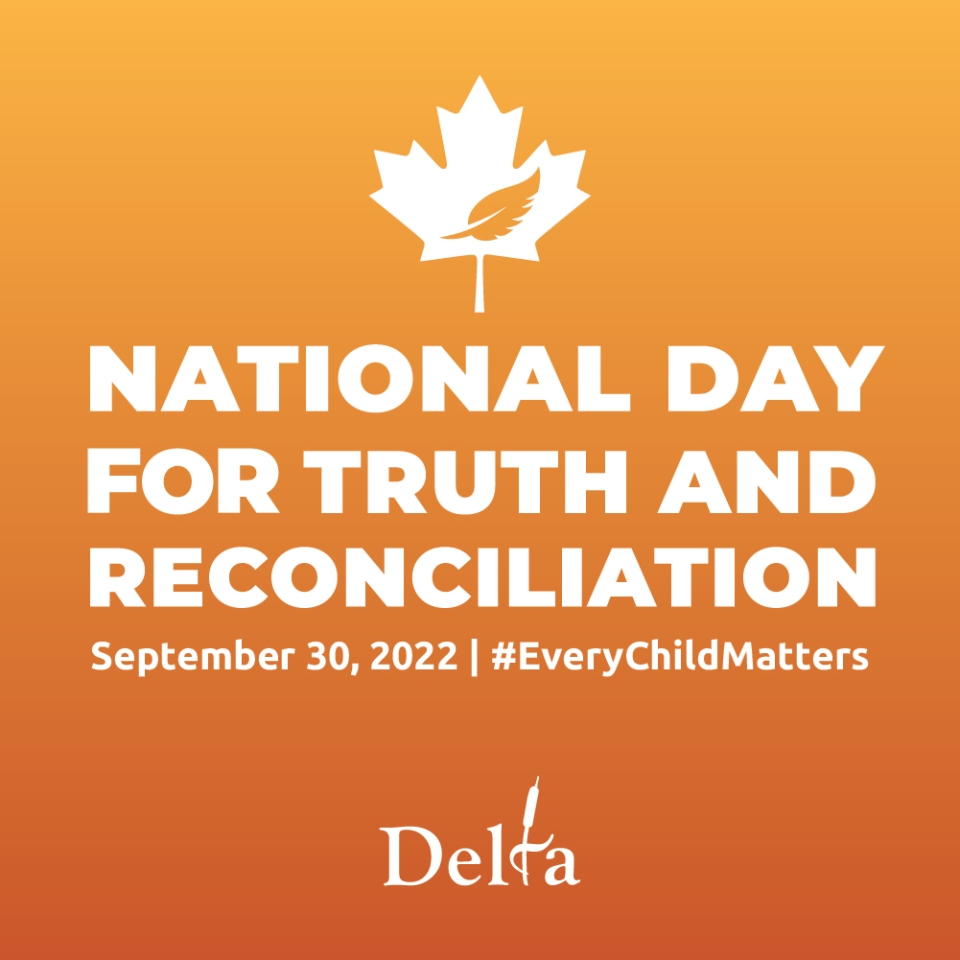 In honour of the National Day for Truth and Reconciliation on Friday, September 30, the City of Delta is providing learning opportunities for staff and the public this week to educate and remember the history and ongoing impacts of residential schools as part of the reconciliation process.
The City invites Delta residents to participate in a Blanket Exercise by pre-registering at www.delta.ca/truthandreconciliation:
A Blanket Exercise is an interactive and experiential teaching tool that explores the historic and contemporary relationship between Indigenous and non-Indigenous peoples. Participants step onto blankets representing land, and into the role of First Nations, Inuit and Metis peoples. The exercise facilitators, playing the roles of a European "settler" and narrator, walk the group through a script, telling the story of the first contact between Indigenous and non-Indigenous people.
In addition to these sessions available to the public, City Staff have been provided opportunities to learn and reflect about this history and what we can do to help this reconciliation journey. Staff were able to participate in and learn about the KAIROS Blanket Exercise earlier this month. Brad Marsden, an Indigenous facilitator from the Gitksan Nation, was invited to deliver a Historical Trauma and Colonization Workshop. Guest speakers, including Louis De Jaeger, Regional Director of Lower Mainland of the Metis Nation Association, and Kim Baird, former Chief of Tsawwassen First Nation, have been invited to share their stories and educate staff on what Truth and Reconciliation means and what we can do to ensure we are supporting this process.
City Hall, North Delta Centre for the Arts, and North Delta Recreation Centre will also be lit up in orange this week as part of the commemorations and Every Child Matters flags will be flown at our facilities. And in partnership with CUPE 454 and Delta Managerial Society, the City of Delta has purchased orange shirts for staff to wear with proceeds going to the Orange Shirt Society.
Learn more about the Blanket Exercises and the National Day for Truth and Reconciliation at www.delta.ca/truthandreconciliation.
For more information on this news release, contact the Mayor's Office at 604-946-3210 or e-mail MayorHarvie@delta.ca.