The Douglas J. Husband Discovery Centre is an accessible space for dialogue and discovery about our community's past, present, and future. Featuring authentic objects, digital experiences, and fascinating stories, all are welcome to engage with Delta's storied history.
Learn by using the touchscreens in our galleries and creating new land forms in our sand table. Watch our water table demonstrate how the region of Delta was formed over 9000 years and use a wand to activate the animals in the habitat theatre. Visit and discover Delta today!
The Discovery Centre aims to be an inclusive and accessible environment for all of its patrons. If you or a member of your group that you are visiting with has an accessibility need, we would be happy to discuss and prepare with you prior to your visit.
Please call our Education Coordinator, Kendall Kloosterman at 604-952-3838 or email at kkloosterman@delta.ca. We look forward to having you at the Discovery Centre!
Take the Tour!
Location & Contact Information
The Douglas J. Husband Discovery Centre is located in Ladner just south of City Hall. Free parking is available on site and we are accessible by transit and a short walk.
Parking Map
View the map to see available parking at the Douglas J. Husband Discovery Centre.
Image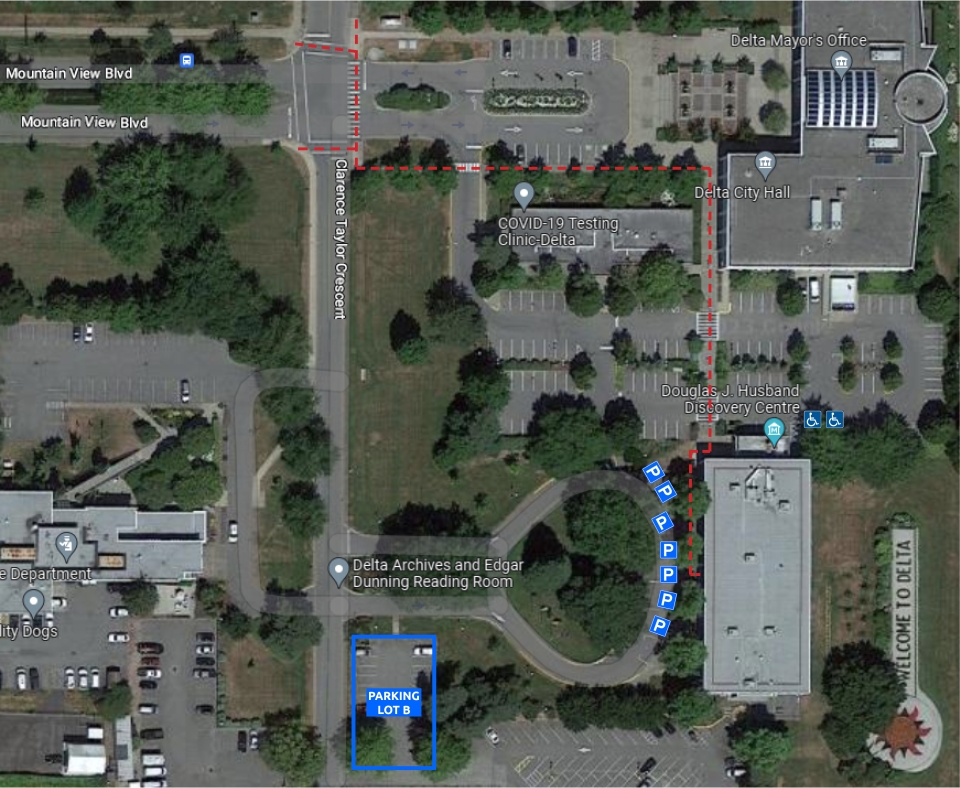 Public Hours:
Monday-Wednesday, Friday | 10am-5pm
Thursday | 10am-8pm
Saturday & Sunday |12-5pm
Archival & Collections Tours – Available upon request
Gallery Tours – Drop-In
Mondays | 11am & 1pm
Thursdays | 6pm
Saturdays | 1pm & 3pm
Sundays | 1 & 3pm
If you'd like to book private group tours of 8 or more, please call 604-952-3838.
School Program Bookings (September 2023-June 2024):
Tuesdays, Wednesdays, & Thursdays | 9:30am or 12:30pm
General Inquiries:
T: 604-952-3836
School Program Inquiries:
T: 604-952-3838.