Delta Fire
Delta Fire & Emergency Services provides 24-hour emergency response, fire inspection services, public education on fire issues, and emergency planning to Delta's public, business and community facilities. Delta Fire & Emergency Services consists of the following divisions:
Finance, Administration & Training 
Operations & Apparatus/Equipment 
Protective Services 
Emergency Management Office
What We Do
Finance, Administration & Training supplies human resources administration and payroll support for Fire & Emergency Services personnel and supports the Fire Chief, and Delta's Finance and Human Resources Departments with the annual budget and labour management relations.
Operations & Apparatus/Equipment provides direction, accountability and support to the operations of Delta Fire & Emergency Services, including radio communications and all purchases related to vehicles, equipment and facilities.
Protection Services is responsible for meeting objectives through public education of fire safety and emergency preparedness. This division directs emergency planning and fire prevention, and manages crew inspection of properties in accordance with Delta bylaws and the BC Fire Code, fire investigations, and building pre-planning.
The Emergency Management Office ensures the City is prepared for an emergency or natural disaster. The Office is responsible for organizing emergency preparedness training exercises for City staff, external support agencies, and the public, while supporting and promoting volunteer-based emergency management programs and initiatives. The Office also prepares local businesses for continuity and recovery in the event of an emergency, and works with Delta School District to ensure students are prepared.
Firefighter Recruitment
The 2022 Firefighter Recruitment posting is now closed. Thank you and good luck to those who have applied. Candidates moving forward in our 2022 recruitment process will be notified by email.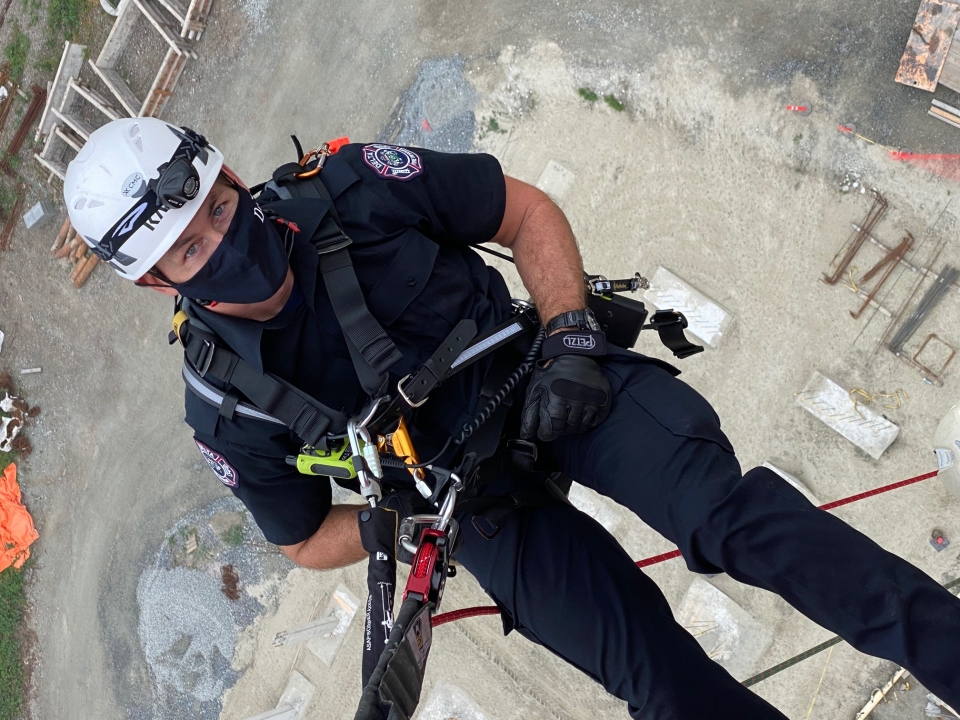 Required Qualifications

Applicants must meet all of the following required qualifications to be considered for employment:

Legal entitlement to work in Canada (Canadian Citizenship / Landed Immigrant / Permanent Residence Status)

Certificate of Completion of NFPA 1001 Levels 1 and 2 from an approved Pro Board or IFSAC accredited firefighter training program

High School graduation or equivalent

Valid BC Driver's Licence, Class 3 with Air Brake endorsement

Driver's Abstract providing your most recent five year driving history dated within 15 days prior to application submission date.  Candidates must demonstrate safe and responsible driving behaviour. More than six points is considered excessive; any applicant with more than 6 points on their licence will not be considered. Other aspects of your driving record will also be considered

Emergency Medical Responder (EMR) Licence or higher. Licence must be kept valid throughout recruitment process. See the

Ministry of Health website

for licencing information.

Applications without an EMR Licence or higher will be accepted at time of application. However, applicants will be required to obtain and provide proof of this qualification prior to the start of Stage 4 of the recruitment process.

Standard for Competence of Responders to Hazardous Materials/Weapons of Mass Destruction Incidents - Operations Level (NFPA 472)*

Community Volunteer Experience

Physically and medically fit to perform the job of a Firefighter according to the standards set out in NFPA 1582, including:

Vision and hearing that meets the criteria listed in NFPA 1582 Chapter 6:

Colour and peripheral vision safe for the position of Firefighter;

20/30 corrected binocular vision and 20/100 uncorrected binocular vision or better;

Normal hearing without artificial aids.

No conviction for a criminal offence related to the job of a Firefighter.

Preferred Qualifications

Standard for Competence of Responders to Hazardous Materials/Weapons of Mass Destruction Incidents – Technician Level (NFPA 472)*

Technical High Angle Rope Rescue – Awareness, Operations or Technician Level (NFPA 1006)*

Confined Space Rescue – Awareness, Operations or Technician Level (NFPA 1006)*

Wildland Fire Fighting Certification

Completion of other Fire Service related courses or programs

Fire related work and/or volunteer experience related to firefighting

Post-secondary education and/or building construction training or experience, mechanical training or experience, or heavy equipment operation training or experience

2 years of accumulated work experience after the completion of high school

Fluency in languages other than English

Ability to swim and related life saving certificates

* Pro Board or IFSAC accredited certification not required; must provide documented proof that training meets or exceeds the appropriate NFPA standards.

DATE

STAGE

Posting Opening Date –

Thursday, June 23

Posting Closing Date

Thursday, July 7

Stage 1 – Online Application & Screening

Monday, July 25

7:00 pm

Stage 2 – Written Test

August 16 or August 23

 

Candidates will be scheduled for one evening session.

 

Stage 3 – Candidate Physical Ability Test (CPAT)

Week of September 6 and

September 12

 

Stage 4- Panel Interviews

Saturday, October 1 or

Sunday, October 2

 

Candidates will be scheduled for one session on this weekend.

 

Stage 5 – Mandatory Skills Refresher Day

 

Starting Friday October 7

Stage 6 - Ride Alongs

Starting Monday, October 31

 

Stage 7 – Medical/Physical Exam

Starting Monday, October 31

Stage 8 – Police Information Checks, Reference Checks & Proof of COVID-19 Vaccination Status

Week of November 7 or 14

Stage 9 – Fire Chief's Interview

Week of November 21

Stage 10 – Offers of Employment & Eligibility List

January 2023

HIRE DATE

Please note this schedule is subject to change.

Candidates moving onto the next stage of the recruitment process will be notified via email or telephone.  It is the candidate's responsibility to ensure email addresses and phone numbers are current and up to date.  All testing and assessment stages are in person and cannot be faxed, emailed or taken online. The City of Delta reserves the right to limit the number of candidates that proceed to any stage of the recruitment process.

Can interested persons visit a Fire Hall or ride along with a fire crew to learn more about the job?

No. Delta Fire Services no longer permits hall visits and does not offer ride along opportunities to potential candidates.

What do I need to bring with me to my interview?

At the time your interview is booked, we will communicate with you to advise you of what items you are expected to bring to your appointment.

If I am unable to make the scheduled date for the written test, can I schedule another time?

No. Unfortunately, the recruitment schedule cannot accommodate more than one session for the written test.

Will I be notified as to the status of my application? How often should I expect to hear from recruitment personnel?

Due to the large volume of applications, only short listed candidates will be contacted regarding advancement to the next stage. It is important to check your email inbox and your telephone messages/voicemail regularly.

How many firefighters does Delta Fire & Emergency Services plan to hire?

The number of firefighters hired varies from year to year. The purpose of the recruitment intake is to fill any immediate vacancies and to establish an eligibility list for the upcoming year.

How long do you expect the recruitment process to take?

The recruitment and selection process has multiple stages and typically spans a period of several months.

How can I determine if I have a medical condition as it relates to the job of firefighter? If I have a specific question relating to medical suitability how do I get it answered?

Please refer to the National Fire Protection Association Standard on Comprehensive Occupational Medical Program for Fire Departments (NFPA 1582, Chapter 6). Our medical requirements are taken directly from these criteria.

If you have a specific question pertaining to one of these criteria that you are unsure of after reviewing the document, consult your family doctor. We are not able to provide you with answers to specific medical questions. Your physician is the best resource for information on your personal health. We encourage you to book a complete examination with your physician before you decide to submit a firefighter application to identify and/or discuss any conditions that may affect your ability to perform the job of a firefighter.

Note: This will not substitute for the comprehensive medical/physical examination conducted by an independent medical provider in Stage 5 of our recruitment process.

Are there any courses that Delta Fire & Emergency Services can recommend to better my chances of being selected?

Due to the competitive nature of the assessment process, we do not counsel or provide recommendations to potential applicants on how to increase their competitiveness.

Does Delta Fire & Emergency Services prefer a candidate receive their NFPA Levels 1 and 2 training from a particular fire academy?

No, we do not favour one academy over another. All candidates must ensure that the academy they attend is IFSAC and/or Pro Board accredited.

I do not live in British Columbia. How can I determine if my driver's licence and/or demerit points meet your driver's licence qualifications?

Please contact the Insurance Corporation of British Columbia (ICBC) at 1.800.950.1498 or visit their website to obtain information on Driver's Licence equivalency. Out of province applicants are required to provide a copy of their Driver's Abstract from their jurisdiction of residence.

As a condition of employment, successful candidates will be required to transfer their current Driver's Licence to a valid BC Driver's Licence prior to their hire date.

What do you accept as a suitable Commercial Driver's Licence?

We will accept British Columbia Class 1, 2, or 3 licences (automatic) with an air brake endorsement.

I do not have a copy of my high school transcript (or equivalency). What will you accept as a suitable replacement?

You will need to contact your previous high school to obtain a copy of an official school transcript providing that it clearly indicates you have met the Grade 12 requirements.

If I have a college diploma or university degree do I still need to submit my high school transcript?

Yes, you are still required to submit your high school transcript (not your high school diploma).

Do you accept out of province applicants?

Yes, however, be aware that if you progress in the recruitment process you will be required to travel to Delta on many separate occasions to participate in the recruitment testing, sometimes with short notice.

Do I need to attach all of my supporting documentation when I submit my online application?

Yes, please refer to the Document Submission Instructions page in the Fire Recruitment Manual for a list of all required documents and how to upload them to our online system.

Can I update my qualifications after I submit my application?

No, your application must be complete at the time of submission.

If I have only partially completed, or have just registered for any of my licences or certifications, can I still apply?

No, you must meet all of the required qualifications at the time of submitting your application in order to be considered. 

Do I require previous firefighting experience or training prior to applying?
You must have completed NFPA 1001 Levels 1 and 2. However, training will be delivered prior to being placed on active duty.

What are the qualifications needed to be a firefighter with Delta?
Our required qualifications are listed on our website.

How do I apply to be a firefighter with Delta Fire & Emergency Services?
Applications are only accepted during open competitions and can be completed online on our website.