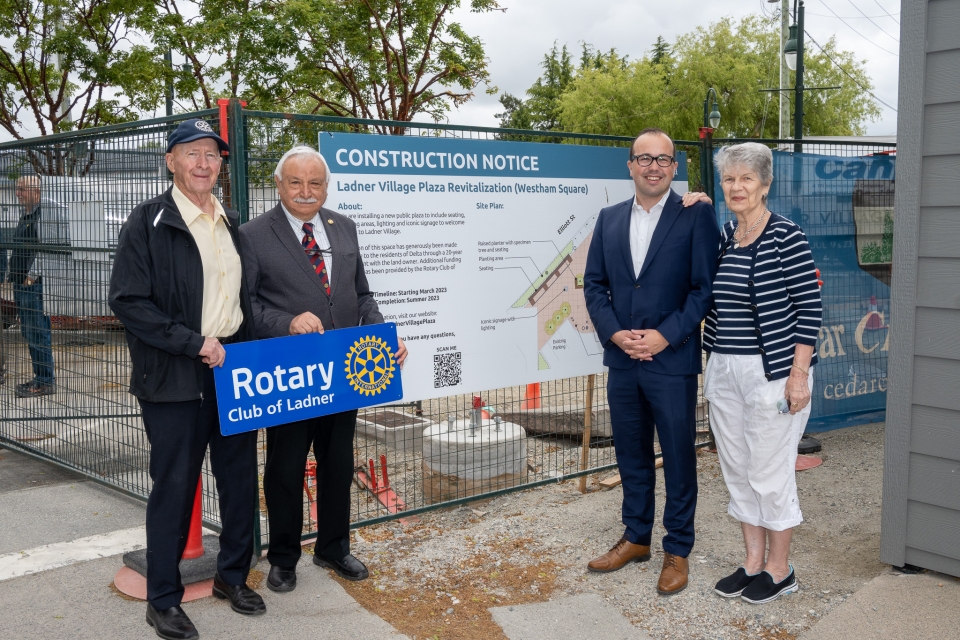 On March 16, 2023, the City of Delta began construction on a new plaza at the entrance to Ladner Village. This project involves infrastructure and electrical upgrades to support new landscaping, seating, and lighting, including the construction of a new beacon sign for the village.
With the help of the Rotary Club of Ladner, the project will also see the installation of two new E-bike charging stations and a large timber drifter bench. These additions will encourage visitors to explore Ladner Village in an easy, sustainable manner, while also providing a social space within the Plaza.
"The Rotary Club of Ladner has been extremely supportive of our work and has played a valuable role in promoting and elevating social spaces to foster community growth. Their contribution to this project provides an essential element to Ladner Village that allows visitors to thoroughly explore this wonderful area and all the businesses that call the Village home."
The Rotary Club of Ladner has made several significant contributions to Ladner over the years, notably with the recent installation of the Ladner Rotary Splash Park in 2018.
The Rotary Club of Ladner will contribute $25,000 to the Ladner Plaza project. As part of the agreement, signage will be placed on site recognizing the support from the Club. The project is expected to be completed by late summer 2023.
For more information on this news release, contact Delta Parks, Recreation & Culture at 604-946-3293  or e-mail prc@delta.ca.
PHOTO: Overhead of the Project Area