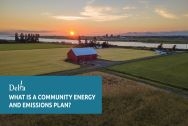 *Deadline Extended to November 4, 2022*
The City is in the second phase of updating its Community Energy and Emissions Plan (CEEP). An updated CEEP will help guide our pathway towards reducing our contributions to the greenhouse gas emissions that cause climate change.
As part of this process, we are seeking community input and asking residents and businesses to take part in our second online survey for CEEP to help us understand local priorities when it comes to reducing our carbon footprint. This phase will focus on feedback on the various actions we should prioritize in the CEEP.
Learn more and take the second survey at: letstalk.delta.ca/communityenergy. The survey is available in English, Punjabi and Simplified Chinese.
Complete Survey #2 between September 7 and November 4, 2022 to be entered to win a prize package valued at $100. If you prefer a paper copy, the survey can be printed on the Let's Talk Delta CEEP Project page and be dropped off at Delta City Hall.