Office of the Mayor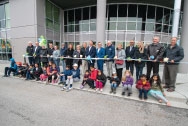 Mayor George V. Harvie and Delta Council officially opened the new North Delta Centre for the Arts at a grand opening celebration on Saturday. Located next to the North Delta Recreation Centre, the Centre for the Arts features nearly 11,000 square feet of space, providing space for a variety of cultural activities and community events.    
Replacing the Firehall Centre for the Arts, the North Delta Centre for the Arts includes a 120-seat theatre with retractable seating, state-of-the-art sound, a large foyer, concession, and multiple music and meeting rooms. The new Centre for the Arts also provides a formalized space for Council meetings held in North Delta. While the COVID-19 pandemic delayed the grand opening of the new Centre for the Arts, Delta Council meetings have been held here since the fall of 2020.
"I'm pleased to celebrate this tremendous facility to advance art, culture, and performances in our community. We have an active and very creative arts and culture community and this new facility will serve as a vibrant hub of artistic opportunity in Delta. Since taking office, establishing an appropriate facility to hold our North Delta Council Meetings has been a key priority for this Council as we alternate meetings between the north and south, and this facility will serve us well into the future."
     - Mayor George V. Harvie
North Delta Centre for the Arts will support performing arts, art shows, gallery displays, and music performances to service the cultural needs of the growing community. Visit Delta's website to learn more about this facility at: Delta.ca/NDCA.
For more information on this news release, contact the Mayor's Office at 604-946-3210 or e-mail MayorHarvie@delta.ca.