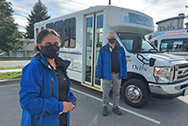 The City of Delta is providing a free transportation service for Delta residents to the Fraser Health COVID-19 Immunization Clinic in Delta. This service picks passengers up at their home address, takes them to the immunization clinic, and then returns them to their home.
For more information, please call 604-597-4876, Monday to Sunday, 9am to 3:30pm.
Rides are booked on a first-come, first-served basis. COVID-19 safety protocols are in place, including mandatory masks while on the bus.
This service is available to Delta residents who are in the eligible age range to receive the COVID-19 vaccination, according to the Fraser Health Authority's COVID-19 Immunization Plan.
You can learn more about the plan and it's phases here.