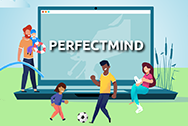 PerfectMind is your portal to an active lifestyle!
In late-Fall 2021, the City of Delta is planning to introduce PerfectMind, a new cloud-based, online registration system. This software will replace the current CLASS system and provide a better method for residents to access parks, recreation and cultural services.
PerfectMind will provide a user-friendly online interface that allows patrons to register for activities and manage individual and/or family accounts.
Features
PerfectMind includes a variety of new and helpful features to make managing your account as seamless as possible, including:
easy online registration, with a user-friendly search and filter function for all activities;
connecting accounts to support tracking of individual activities and schedules of each family member;
online record keeping for all individual receipts, schedules, and contracts;
a safe and secure manner to make payments; and
an accessible mobile interface. 
Stay informed as more information about PerfectMind is released, including tutorial videos and FAQs, by visiting Delta.ca/PerfectMind or by following Delta's Twitter, Facebook, Instagram, and YouTube Accounts.