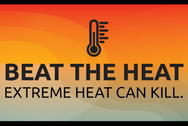 Environment Canada has issued a heat warning for the City of Delta and across the Lower Mainland from today until the end of the week.
Daytime high temperatures will reach 31 to 35 degrees Celsius inland and 25 to 29 degrees Celsius near the water. Early morning low temperatures will range from 15 to 17 degrees Celsius.
Extreme heat can impact anyone — especially older adults, infants and young children, those with chronic health conditions, and those taking certain medicines should take extra care.
For more information about our air-conditioned facilities and tips on how to Beat the Heat, visit www.delta.ca/beattheheat.