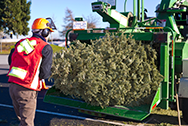 Does your household decorate a live tree over the holiday season? There are plenty of convenient, sustainable ways that your Christmas tree can be recycled once the season is over!
Christmas Tree Chipping Events 
Delta's Lions Clubs will once again be hosting their annual Christmas Tree Chipping Events. The service is provided by donation, with all proceeds going back to causes within the community. The events will take place in Ladner, North Delta, and Tsawwassen on January 7 and 8, 2023 from 9:00 am to 4:00 pm at the following locations:
Curbside Collection
Did you know that live trees can be put out alongside your Green Can materials on collection day? Make sure that large trees are cut in half to make it easier for our collection crews.
Tree Drop-off 
Delta residents can drop off yard trimmings, including live Christmas trees, for free at GFL Environmental (4295 72 Street, Ladner). For hours of operation, please contact the facility directly at 604-946-0201.