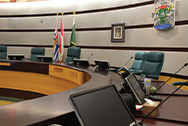 View the Public Hearing Agenda.
Delta City Council will hold a Public Hearing, in accordance with the Local Government Act, by electronic means/Zoom on Monday, March 29, 2021, commencing at 2:30pm, in order to consider the following proposed project:
Project No. 1

Application for Rezoning
(File No. LU009092)

 

Location:

4573 Garry Street

 

Council Report:

 

Staff Contact:

Babak Behnia – 604.946.3269 or Bbehnia@delta.ca

 

Proposal:

Application for Rezoning in order to permit subdivision and development of two single detached residential lots.
Participate in the Public Hearing Process
Any persons who believe that their interest in property will be affected by the proposed project shall be given an opportunity to provide their comments (support, concerns or opposition) to Council in the following ways:
1. Write to: Mayor and Council:
    City of Delta, 4500 Clarence Taylor Crescent, Delta, BC V4K 3E2
2. Email: mayor-council@delta.ca 
3. Telephone or Video Conference (must register in advance – details below).
This public hearing will be broadcast live at delta.ca/watchlive. Members of the public who do not wish to speak may listen and watch the proceedings via the City's website. 
Speak at the Public Hearing via Electronic Means
To speak at the meeting, you must register with the Office of the City Clerk before 10:00 am, Monday, March 29, 2021. To register you must email PublicHearing@delta.ca or call 604-946-3220 and provide:
1. the Public Hearing meeting date;
2. the Project Number;
3. whether you will attend by telephone or videoconference; and
4. your contact information (Name, Address, Phone Number, Email Address)
Once registered, you will be provided the details needed.